New Patients Welcome
Welcome to Above & Beyond Dentistry & Implants! We are thrilled to serve our Battle Ground, WA community with the knowledge, skills, compassion, and care you look for in a dental provider. Your comfort is our top priority while providing you the best dental care possible. An important part of this commitment is providing you with the information you need to make informed decisions about your dental and oral health needs. We want to get to know you, and partner with you in your oral health goals. Our knowledgeable and friendly staff, cutting-edge technology, comprehensive services, and inviting office space will make Above & Beyond Dentistry & Implants the best dental experience you've ever had.
Your First Visit
Your first visit with us is an important time for us to sit down and get to know each other. We want to know what you do for a living, what your dog's name is, and all about your family. We also want to know about your medical and dental history, your diet and lifestyle habits, and any medications you are taking so we can provide the most personalized care possible. Save some time and energy by filling out our New Patient Packet before you come in for your first visit.
Payment Options
Insurance & Financing
For many, the financial aspect of dentistry has stopped them from realizing their full smile potential. At Above & Beyond Dentistry & Implants, we don't want you to wait any longer. We offer smart in-office options that can help you achieve your goals sensibly. We provide access to CareCredit®, as well as a special in-office membership plan called The Above & Beyond Benefit Plan (A&BBP).
Above & Beyond Benefit Plan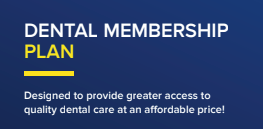 The Above & Beyond Benefit Plan is an annual reduced-fee savings plan for families and individuals, that allows all A&B members to receive quality dental services at greatly reduced prices. Unlike conventional insurance plans, with the A&BBP there are no deductibles, no yearly maximums, and no waiting periods to begin treatment. A&B benefit coverage begins immediately on plan registration.
CareCredit®

CareCredit® is one of the leading healthcare credit cards and is accepted at over 175,000 providers nationwide. CareCredit® works just like any other credit card but is used strictly for healthcare expenses, including dentistry. Pay upfront for necessary procedures, and make affordable monthly payments that work with your budget. CareCredit® financing is flexible, convenient, and the application process is simple.
Compassionate Finance®
Compassionate Finance is a turn-key, fully managed financing program that helps patients get the care they need, affordably. Applications are processed within seconds, and patients can almost instantly get a down payment to cover hard costs, and set up a flexible payment plan that works with their budget. Don't let financing get in the way of your oral health, ask us about Compassionate Finance today. To start your application, click the "Apply Now" link to the right.